Moulding knife grinding wheel industrial diamond dressers decisions can be a bit confusing as to which one you should use for your particular type of grinding wheel that you are utilizing.
In this article, we will describe and fully explain two most common styles of industrial diamond dressers used in the wood moulding industry, single point as well as multi point grinding wheel diamond dressers.
Typically single point diamond dressers are composed of a single piece of industrial grade diamond crystal used to shape or dress aluminum or chromium oxide based grinding wheels. Usual cost for a single point diamond dresser is about $20.00 - $30.00 each, depending on your manufacturer of moulding knife profile grinder. Many moulding manufactures that grind and produce their own moulding knives use a single point diamond dresser on moulding knife-grinding wheels used in manufacturing; they even use them on ceramic grinding wheels with success.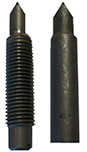 Single Point Diamond Dresser
The structure of ceramic grinding wheels will create excessive heat buildup on the diamond dresser assembly compared to that of vitrified grinding wheels while in the process of shaping or dressing the grinding wheel. Extreme heat buildups transferred into the shank itself from dressing can lead to the melting of the adhesive or bonding compound that holds the diamond in the shank. This melting or breakdown of the bonding agent can lead to the actual diamond crystal to become loose and dislodge from the receptacle.
Multi Point Diamond Dresser
That brings us to the multi-point industrial diamond dresser; this style of diamond dresser contains a group of multi diamond stones within the shank receptacle. Average cost for a multipoint diamond dresser is roughly $50.00 - $60.00. This multi-point diamond surface is superior for use in dressing and shaping ceramic style grinding wheels. The use of multiple diamond crystals disburses the heat from wheel dressing evenly amongst the multiple diamond chips held in the shank. Multi point dressers will work on ceramic, aluminum oxide, chromium oxide, and even CBN (Cubic Boron Nitride) and diamond based grinding wheels, you will have good results.
The manufacturer suggested grinding wheel speed while dressing or shaping profile-grinding wheels is about 2000 rpm for both styles of diamond dressers. We highly recommend using a small sheet of plastic to cover the spindle carriage assembly and moulding template carrier radial adjustment during the dressing or shaping process, this allows for easy clean up after task is accomplished.
To briefly sum up the subject of diamond wheel dresser, if you currently use ceramic grinding wheels and or CBN grinding wheels we recommend the multi-point diamond dresser. Utilize the single point diamond dresser if you currently use an aluminum oxide or chromium oxide type of vitrified grinding wheel. Although the multi-point diamond dresser will cost you a bit more money, our opinion is, it is worth the cost difference in reference to its service life.
We hope we have accomplished a better understanding of both single point and multi-point diamond dressers, if we can be of any further assistance in your operation of manufacturing moulding please feel free to contact us.