Moving woodworking machinery and equipment can be a bit of a headache; especially when operating on a limited budget, machinery is generally heavy and unbalanced which present challenges during a move, even for short distances within your shop. Our recommendation would be to call the manufacturer first; they will have all the vital information you need to make a safe and easy machinery move without damaging your equipment.
This article will explain in detail how to secure a Weinig R 960 moulding knife profile grinder prior to movement for relocation or shipping. Never move a Weinig R960 profile grinder without securing the linear bearing table first!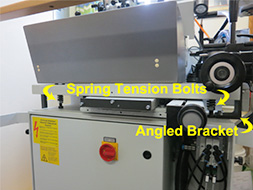 Prior to shipment, each Weinig R960 profile grinder table is locked in position and secured to the main casting of the machinery with an angled steel bracket or brackets and two heavy duty spring tension nuts and bolts as shown it the image above and below.
There have been a couple of different styles of angled securing brackets that lock the linear bearing table from movement during shipment in recent years, Weinig has gone from one angled securing bracket system to two securing brackets to eliminate any possible damage during shipments (see images below). This is how Weinig secured the grinding arbor table. First, they bolted in place one of the angled brackets to the upper right hand corner on the backside of the grinding table itself, next they bolted the second angled bracket to the main casting of the machinery, and finally the two angled brackets was secured to each other with two silver colored 13mm hex bolts with washers. Weinig also used two hefty coiled tension springs, two 24mm hex bolts with small holes in the head of the bolt to receive a smaller 6mm round hex installed on the main casting so the springs and bolt would not move during shipment while continually keeping tension on the linear bearing table.
Numerous operators have forgotten where all these fastening parts remained prior to installation of the machinery; these important pieces of securing equipment have a habit of getting lost all on their own. Many grinding machine operators have never received the proper training on the use of these items and have no idea what they are for, or proper location and installment prior to movement of the machine. We are confident these securing parts will never get lost if placed in a plastic bag in the bottom right hand corner of the front of the machine, next to the front leveling bolt behind the sheet metal cover at the time of installation.
Prior to movement of the grinding machinery, you have a few options, if you retained the original shipping pallet use that to move your grinder, if not you will need to make a new pallet to move the machine. Bolt the machine down to the pallet by utilizing the leveling bolt area that is machined into the casting, we recommend using carriage bolts and washers to secure machine to pallet, not the leveling bolts, we do not want damage to the leveling bolts during shipment, once secured to pallet you can use a forklift to lift the machinery.
If the above solution is not an option for you, there are some two-inch diameter holes in the main casting on both sides of the machinery for lifting bars to slide thru. These holes can be very useful for lifting the machine or fine-tuning the locating position on either the pallet or when grinder is in final location for use.
The ultimate solution for moving woodworking machinery is to hire a professional rigger if you can afford one, but either way, as we said prior, make sure you call the manufacture first to find out all the pertinent information on how to move your machinery safely and securely.
In summary, we have personally replaced and aligned many sets of linear table bearings on Weinig profile grinders throughout our career, they can be difficult, time consuming, and require expert training for proper alignment to regain accurate factory settings. To replace and align linear bearings and roller cages on a Weinig R960 grinder roughly cost about $2000.00 plus expenses of an experienced service technician. Just take a moment before you try to move your profile grinder, think about the consequences, you cannot achieve a smooth professional finish grind for your moulding knives with flat spots, ruts, and dings in your linear bearings cages and rails.
No matter what model moulding knife profile grinder you own, secure the linear bearing table on the machinery before you move it, if you have any further question please feel free to contact us.